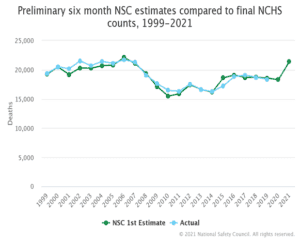 Car accidents are an unfortunate fact of life, and thousands of families go through this trauma every year as they cause damage to both lives and cars.
Shockingly though, many people are unaware of what to do after a car accident.
National Safety Council data shows that over 40,000 Americans lost their lives in motor accidents in 2020. And going by its projections, the death rate may be even higher in 2021, although we have traveled less this year.
Such accidents can shatter people physically, emotionally, and financially. That's why it's crucial to have knowledge of what you should do after a car accident.
After all, the individuals involved in the accident and their families deserve to receive substantial compensation.
An experienced personal injury attorney can help you build a strong case and receive compensation that is lawfully yours.
What Should You Do If You Meet with a Car Accident?
Although none of us wish for it, we may meet with a car accident. Here's what you should do after a car accident to reduce the damage to life and property.
1. Call 911 Immediately
Wondering what you should be doing after a car accident?
Stay calm and call 911. This is the most important step even for the smallest of accidents.
Whether you or your co-passengers are injured or not, you should inform the police about the accident and ask for medical assistance.
2. Secure Your Loved Ones
In case of a minor collision, you should move your loved ones out of the car to a secure location nearby.
Whether it's your children, elders, or a pet, it's your primary duty to get them out of the hot car, check their injuries, and ensure their safety. If you've got a first aid kit, you can use that as well.
3. Collect Information Calmly
What's the next thing you should do after a car accident?
You should gather the personal information of the driver in the other vehicle.
These details are vital while claiming insurance for your car repair or medical bills.
You should gather details like:
The driver's name, address, and contact number
Insurance company and policy details
Driver's license and vehicle details
4. Collect Evidence from the Accident Site
The other important aspect that needs to be taken care of is the collection of evidence. You need to look at the accident scene and find out every important detail that you can report.
While doing so, try not to fiddle with the accident scene or interfere in the police investigation.
Take out your cell phone and start taking pictures of the following:
Vehicles involved in the accident
Any objects that caused the accident
Location of the accident and how the vehicles are positioned
Zoomed-in photos of the damaged parts of your vehicle
Pictures of your injury, the co-passengers, and the other vehicle's passengers
5. Inform the Insurance Company
One of the other important things in this list of things to do after a car accident is to ring up your insurance company.
Time is of the essence when it comes to informing the insurance company about your car crash.
Ring up the customer care as soon as possible and share the relevant details. They should be able to send a roadside assistance team as well as an authorized surveyor to take stock of the situation.
Once both these actions have been executed, go ahead and start your auto insurance claim.
The Must Nots
While it's imperative to know what to do after a car accident, you should also be aware of certain things you should avoid.
Don't get into a heated argument with the other driver in the absence of police
Do not neglect seeking medical care
Avoid making "handshake" deals with the opposite party
Do not give a statement in a hurry
Do not wait for the insurance company to process the insurance claim but rather follow up with them
Don't try to mislead the police
Starting Your Car Insurance Claim
Now you have a good idea of what to do after a car accident.
But having a fair bit of knowledge of how to proceed with the car insurance claim will help expedite the proceedings. If you were driving a rented car, you should be aware of rental car insurance too.
Here are some important things you need to build a strong case:
Pictures from the accident site
Details of the cars involved in the accident
Cell phone records
Surveillance camera footage, if available
Medical records
Medical bills
Police reports
The insurance company is likely to inspect the vehicles to determine the damage.
Seek Help of an Experienced Attorney
We understand that meeting with a car accident can be stressful and running around for insurance claims may add fuel to your anxiety.
A seasoned attorney will not only ease the stress but fight on your behalf for justice.
We, at Fulmer Sill, are committed to helping our clients build a strong case and assisting them in getting the full claim amount.
With our expertise and years of experience in dealing with accidents and personal injury, we assure you the highest quality of legal assistance.
Feel free to get in touch with our team for a free consultation or case review.